FREE 7-PAGE FLYER Offers FREE WATER Locally: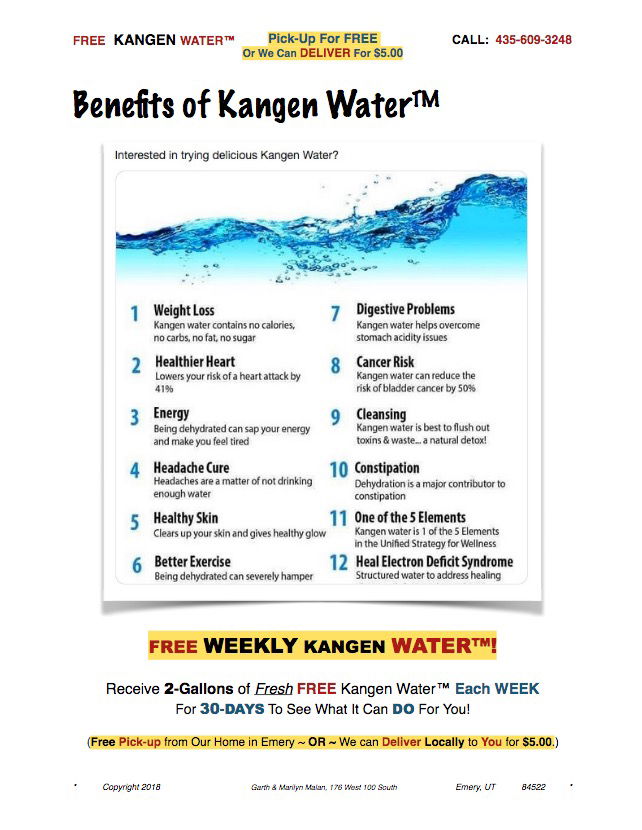 TO DOWNLOAD FREE 7-PAGE FLYER:

1) Simply click on this link Kangen Water - Benefits of .pdf to download it to your computer, laptop or cell phone.
-------------------
FREE WATER: If you live in our neck of the woods, you can try out this Fantastic Water absolutely FREE! ... Receive 2-Gallons of Fresh FREE Kangen Water™ Each WEEK For 30-DAYS To See What It Can DO For You! * (* Free Pick-up from Our Home in Emery, UT ~ OR ~ We can Deliver Locally to You for $5.00.)
-> If you do not live locally, you are still more than welcome to all of the information that our FREE FLYER offers!
-> QUESTIONS, call Garth and Marilyn Malan at: 435-609-3248 MDT... USA. (If not available, leave Name , Number with Area Code and Brief Message and we'll return your call shortly.
Or send your questions to: GreatWaterSolutions@gmail.com
(Closed Weekends and Holidays.)
THANK YOU FOR INQUIRING!
Enjoy your free information: Kangen Water - Benefits of .pdf
* NO CREDIT CHECKS! - "COMPANY FINANCES ALL ORDERS!"

ORDER YOURS TODAY!
* FREE FLYER: Machine Types w: Prices.pdf
TO REQUEST ORDER FORM, CLICK HERE NOW: GreatWaterSolutions@gmail.com
To Return To The Main Page, Click On Your Return or Back Button.
Be Sure To Check Out Other Important Things You Need To Know About On The Left Side Of This Page!